About Us
I was inspired to create The Carlin when I had to make the daily choice between waking up an hour earlier to make my hair presentable for work or get a much-needed extra hour of sleep. Most days that additional hour of sleep won the battle. Working a job that required a 6 a.m. arrival, finding the time required to do my hair before my two-hour commute to the office was nearly impossible. I desperately searched for ways to quickly get ready so I could maximize my sleep. I looked for versatile hairstyles I could do for a special occasion or wear to the office. A hairstyle that was classic and would not go out of style. I also wanted to have a great hairstyle without constantly styling my hair with heat, resulting in hair damage. Unable to meet that objective on my own, I looked high and low for a tool to create beautiful updos without much effort and time. After coming up empty-handed, I decided to create a solution of my own. After experimenting with hundreds of materials, I found a suitable mix of utility, durability, and sophistication that was needed to create a hair accessory that achieved all my intended objectives. I named the accessory "The Carlin" which means pug in French and it was named after my pug dog Otis. I adopted Otis from a pug rescue when he was 7 years old. He was my silent business partner until his passing in July 2020 at age 19.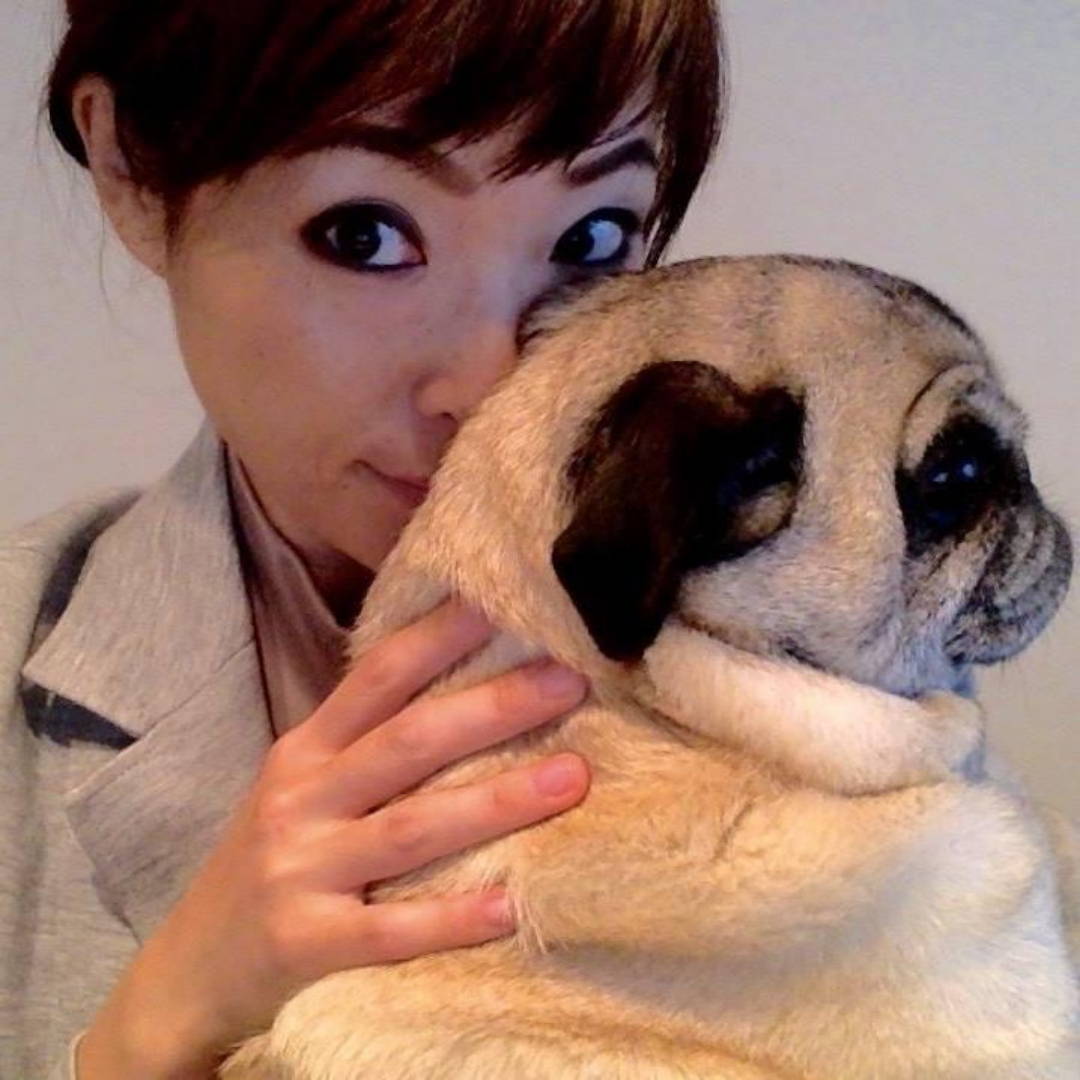 With my silent business partner. Otis
How I used to make The Carlin when I first started...
I was born and grew up in Tokyo. Back then, girls were expected to get a good education and maybe work for a few years before getting married and having kids. My parents never went to college but my father always stressed the importance of a good education. He worked very hard to build a successful restaurant from the ground up with hopes of sending us to top schools.
At age 12, he enrolled me in a "cram school" after regular classes to better prepare for prestigious middle school entrance exams. The goal was to be always one step ahead of other students and the competition was fierce. Our weekly test scores were published so all neighbors knew which kids were "the smartest." And after 12-14 hours a day of schooling, I was often too exhausted to do anything with friends, play sports or go to fun camps.
Eventually, my father saw me always buried in books, homework and exams and began to question the traditional education system. One day, a friend told him about an international school in Singapore and "a light bulb went off in his head." He told me I would go there to learn English -- "the global language that would enable me to travel and work anywhere" -- and be around other English speaking students. Within a few weeks, my father's friend secured an interview, however, when they found out I didn't speak any English, my application was immediately rejected.
This made my father even more determined and he started researching boarding schools everywhere. He finally found one that would at least take my application -- Shattuck St. Mary's School -- located in Faribault, Minnesota. He hired our neighbor (who was a translator) to help write my school application, and amazingly the school accepted me on the condition I attend summer school prior to my admission.
Friends and family thought my parents were crazy – who in their right mind would send a 12-year-old child away to an unknown country? But, just a few months later after my elementary school graduation, I boarded the flight from Narita to St. Paul/Minneapolis.
After a tearful goodbye, and very long flight, I arrived in the US. This is when reality hit me and I was now alone in a very foreign place with no family or friends. There was no other Japanese person in the school or town. For money, I only had $15 weekly allowance from the school, and I didn't know how to call home. I cried myself to sleep many nights, but one day, I decided to stop feeling sorry for myself. I slowly started to get out of my room and tried to communicate with other kids. Initially this was super difficult, but we found ways to understand each other, and things began to change. I carried a huge dictionary and asked the kids to point out words one by one. Later, I ended up volunteering at the school snack bar where they sold pizza and pop, and this helped me meet a lot of new friends.
As you can imagine, everything was completely foreign to me. I remember the day clearly when I learned how to make collect calls, and finally got to hear my parents' voice again. One day at a time, I slowly adapted to my new environment. During the first year of school, I could not really understand what was going on in the classroom. The teachers must have felt bad for me, so instead of giving me lettered grades, they gave me "P's" for pass. The first year was difficult. I felt alone and sad that there was no one I could communicate with in Japanese, my native language. But because of this environment, my English improved dramatically. After one year in Minnesota, I had no issue communicating with the other kids.
I am thankful to be here today, and this would not have happened if my family and I did not take a leap of faith. It was a challenge to all of us, living apart from each other and facing a lot of unknowns. We did not know how it was going to end up, but we all hoped it would enable me to live a great life. I feel extremely fortunate that today, I can travel the world and communicate with most people. It's opened a world of possibilities and I always have so many options because of it. Sometimes, taking risk is difficult, even when you know in your heart that is the right thing to do. It takes courage to act. Whenever I feel discouraged, I remind myself how I got here. If a 12-year-old can find a way to make a foreign country her new home, then I can do anything I set my mind to. To paraphrase Robert Frost, I have chosen the path less traveled and that has made all the difference.I am thankful to be in the U.S. where we have infinite opportunities to pursue our dreams.